---
"I'm a tradie. What tax deductions can I claim?"
People who work in a trade such as builders, plumbers and electricians to name a few, often pay for work-related expenses out of their own pockets. And when you're working long hours or busy meeting deadlines, it doesn't leave you much time or energy to think about your taxes.
Unfortunately this means many tradespeople end up paying too much tax and miss out on hundreds (and in some cases thousands) of dollars worth of claimable expenses every year.
Do you get everything back you deserve from the ATO at tax time? Here are our common tips on tax deductions for tradies.
Common Tax Deductions for Tradies
You can get valuable tax deductions for tradies with work-related expenses, including:
Can I claim this item as a tax deduction?
You may be able to claim something as a tax deduction if you answer "yes" to ALL of the questions below:
Is it directly related to your work or required for your work?
Do you have a proper receipt, invoice or bank statement to prove the purchase of the item?
Did you pay for it yourself?
It was not part of an allowance?
I was not reimbursed for the cost by anyone else (and not reimbursed by a company)?
Not sure? Talk to your tax agent about it and be honest with them. Their job is to help you with this! (Etax.com.au is a registered agent and we help thousands of tradies every year.)
Only claim real items – fake tax claims are now a serious risk
The ATO can spot fake or "inflated" tax deductions from miles away. They are incredibly good at this and they're getting better at it. Powerful new tools help to check up on taxpayers and they can check your "private" details – including bank account transactions. It's important to claim real deductions only – items you paid for and that are directly related to your work.
If you are caught out claiming items you didn't pay for, that your company paid for, or that you can't prove with a receipt, the result can be painful: The ATO will demand pay-back and they might investigate your tax returns from previous years as well.
For most tradies, there are heaps of items you can claim, so there's just no need to take risks and get in trouble. Plus, taxes run our amazing country, pay for schools and motorways and hospitals, so we should all pay our share.
How can I get more tax deductions as a sole trader?
Here's an example:
Dave is a qualified electrician. He's a sole trader. Dave works contracts for property developers, plus a lot of small residential jobs in-between.
Dave keeps a simple plastic folder in his van with an elastic that hols it closed (from Officeworks).
Every time Dave pays for something related to his work, the receipt goes straight into the folder, right now. This way, receipts never get lost or forgotten.
Anytime Dave gets reimbursed for an expense by an employer, he finds the previous receipt and takes it out of his plastic folder. Easy done.
At tax time, Dave types out a dead-simple list of each receipt, what it was for, and the amount. He sends that list to his tax agents at etax.com.au by using "My Messages."
Then, he gets his plastic folder full of receipts and he opens his etax.com.au tax return using his mobile. He goes to "My Files" in the menu, and clicks "Attach a file". His iPhone camera pops up and he snaps a photo of the receipt, adds a quick note about what it is, and hits "save". Later, Dave won't even have to enter all those details on his tax return – with his receipts attached to his return, the accountants at Etax can do it for him (at no extra cost).
The result? Dave claims every work-related item that he paid for.
He never misses a tradie tax deduction and he never wastes money out of pocket.
Best of all, Dave never worries about the ATO. (In 2012 Dave had to pay an ATO bill of over $10,000 when he was caught out for a travel deduction claim that was actually paid for by a mining company where he worked. Never again!)
In 2019 it will be even easier: Dave says he's using the Etax mobile app to snap each receipt BEFORE it goes into his folder. He gets out his phone and uses the Etax app right at the checkout, so he never forgets to record a receipt. At tax time, it's saved and waiting for him. He'll finish his tax return in minutes. He knows he'll get his tax deductions right (and boost his refund).
---
Download a Tax Checklist for Tradies
To help jog your memory and collect all the right documents and details for tax time, we've created a helpful tax checklist that's personalised for tradies.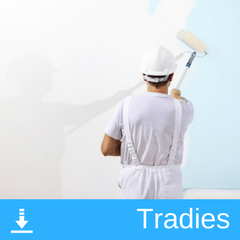 ---
Use the Etax Mobile App to Keep track of your expenses
The best way to boost your tax refund is to keep your tax receipts and notes about expenses. And, the Etax mobile app lets you take photos and save receipts to your online return. This means you'll always know where to find those receipts.
At tax time, all of your receipts are in one place. That means it is easy to finish your tax return in July AND you'll get to claim more tax deductions, because you won't forget items that you paid for.
Just download the app and use it whenever you pay for work-related items.