Customer reviews point to Etax.com.au as the top-rated tax agent in Australia
Hands-down, Etax collects more customer reviews and ratings than any other tax agent.
But reviews of Etax are not just about saying "Etax is great". Reviews help us to improve the online tax return every year, based on suggestions and requests from real Etax users. Reviews of Etax also help us to fine-tune our systems and, most importantly, improve our service and support, non-stop.
That's why the teams at Etax take reviews very seriously. We're humbled by the comments thousands of people take the time to write to us or to post on review websites. But also, we're always ready to work on a new idea or request!
To everyone who posted a review of Etax, sent a suggestion or answered our survey, we'd like to say a huge THANK YOU for taking the time to tell us what you think.
For 2018, Etax won an important award:
Canstar Blue "Most Satisfied Customers"
Canstar Blue is a fully independent customer satisfaction research and ratings business. They surveyed thousands of Australians to get feedback about tax agents, and Etax came out on top for overall satisfaction, value for money, speed, ease of applying and website navigation.
The Canstar Blue survey showed that Aussie consumers really value a tax agent service like Etax, for important reasons – like value for money, advice and service.
Etax isn't just celebrating this award; our teams are getting down to work and trying to make Etax even better. We're honestly committed to making your tax return – and our support, website, careful checking and advice about your taxes – better and easier for you, year after year.
Recent Etax client surveys provided the following stats: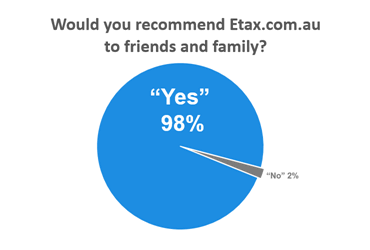 ---
Reviews of Etax at the top review sites:
---
…they really do get the best return for your buck.
—Gina, from Product Review, April 2019
---
I hadn't lodged my tax in 4 years and these guys were amazing, found all my old PAYG payment summaries and got me nearly 4 grand back. Just Amazing! And on top of that they provide the option of deducting their fee from the tax you get back which is something different and very useful if you're short on cash. Highly recommended these guys. They even call you to clarify any confusion.
—Jashan, from Product Review, April 2019
---
Etax is so easy to use, and filling in your info from previous years is simply mind blowing! They do all the work, for such a little fee. Thank you
—Ally, from Product Review, March 2019
---
Fantastic! So user friendly and quick response to queries. They make sure you get the maximum amount back that you can. Would recommend this site to everyone.
—Lee, from Product Review, 11 October 2018
---
Fantastic, great communication, easy to use. Friendly reminder for the new year. Remembers my details. Would highly recommend. Love how easy it is to upload photos.
—Ness76, from Product Review, July 2018
---
"Saves me so much time & stress each year" I have used this service for the past few years. Never experienced a problem, always receive my refund in good turnaround & the communication from the online Accountants is efficient & prompt. Highly recommend.
—Jules H, from Product Review, July 2018
---
"Perfect" very easy to use and the best thing is they check over it for you and you can complete this anywhere there communications are 100% not faulted for the past 3 years.
—Laurence, from Product Review, July 2018
---
This service is amazing. They keep your details handy from last year to prompt you with your current return. I actually don't mind doing a tax return any more. Thanks Etax for the best online service a person can possibly get.
—Kazz, from Product Review, July 2018
---
Very easy to understand and use. I have recommended Etax to other members of my family and friends. The best thing is that the Etax representatives will go over my details before lodging with ATO to see if I have missed anything.
—Georgie, from Product Review, July 2018
Etax Reviews via Email
Richard Becher:
"Thanks for your email and more importantly the efficiency and professional manner in which you completed my 2013 income tax return. It has always been comforting and a pleasure to do business with you over the past 8 years. Look forward to hearing from you and doing my returns with you in the years ahead."
Arthur Mitchell:
"I just wish to pass on a HUGE thank you for the professional and extremely prompt service you have provided yet again. Your service is simple and easy to use and in my case resulted in a return significantly larger than my initial submission."

Matthew Wagstaff:
"Thank you so much for your thorough and extremely efficient service. Both my wife Shannon and I are quite impressed which is why we continue to use Etax each year. We have also recommended your services to friends and family due to the outstanding experiences we have had using your service. Keep up the good work!"
George Richard, WA:
"I'm speechless at your efficiency. The return is already sitting in my bank account. I've never had so much back from the ATO. I'll come to you again next year and will recommend you to my friends!"
Sieni Omeri:
"I'd like to say a big THANK YOU to your team in processing my tax return so quickly and efficiently. I was most impressed with your constant communication and I admire that, also your website is user friendly. I'll most definitely recommend your services. Once again, thank you so much."

Jeff C, QLD:
"A big thank you to Etax for your efficient and professional handling of my tax returns for the past few years. It is so easy to complete the return, and after a few questions to clarify any issues…return submitted….money in the bank in 8-10 days. Amazing service! May your wonderful company enjoy continuing success!"
Amy Fletcher, NSW:
"Thank you so much, very pleased with the service and promptness of my return being done. Thanks so much again!"
Etax Reviews on Facebook
Suzette Wild:
"So surprised with the quick and easy process, not to mention the surprise email I got informing me of the extra $2,200 ETAX had got me on my return! Less than 2 weeks later and it's been deposited in my account. Flawless process, one happy customer!"
Teagan McManus:
"Such an awesome and easy way to do the horrible tax process! Accountants are quick and effecient and I recommended them to my friends and family. 5 stars!!!"
Paul, Dundas Valley, NSW:
"I have just used your etax service for the first time and am really happy with the quick service, support and results. Thank you so much, will certainly use again and recommend to friends."
Rhys, Bunbury, WA:
"Lovely. Thanks Guys, It's a good service you have here for people of my age and income for whom an Attorney or Accountant is not the optimal way to Operate, Thanks again."
Florence, Kirwan, QLD:
"Thank you very much for your help; it made everything very painless, and I will recommend doing their tax via Etax to my friends; I am very satisfied with the results. I hope I have provided all the information you needed, and that everything will go well."
Vanessa Verrier:
"Very much appreciate this fast and efficient service that your company provides!!! Pleasure doing business with you!!!"
Rainer, Wayville, SA:
"Many thanks for your advice…I'm very happy with your service and appreciate the ease and convenience of doing my tax return through you."
Imogen, Kingston, ACT:
"Thanks so much for all your help you have been fantastic and I will be sure to use ETAX for all my future returns."
---
Are those reviews of Etax "legit"?
Yes! Survey results and all reviews of Etax are from actual submissions by Etax clients. The ACCC allows only genuine, factual reviews and ratings to be published by businesses in Australia; Etax is 100 per cent Australian and we follow this requirement very carefully.
All of the Etax reviews, comments and ratings that we publish are from verified users of etax.com.au. We review survey methods and results annually together with independent ISO9001 quality assurance auditors.
Every year, Etax listens to your feedback to improve our online tax return and improve our tax agent services