Main Content
Etax – The easy way to do your tax return
Get Started Now
Fast & easy online tax return
Works great on mobile
Live help from qualified Etax Accountants, online & phone
Expert tax agent checking helps prevent ATO problems and helps boost your tax refund
Direct electronic ATO lodgement
Confidence of lodging your return via a registered tax agent
Maximise your tax refund
Returning Users Login
Finish a tax return that you've started
Snap & save receipts for your next tax return
Check your Etax messages
Check the progress of your tax refund
Update your details
Do any year's tax return 2001–2018
Forgot your password? Click here for login help.
You can finish your tax return in just minutes!
How to start your online tax return:
Click 'Get Started Now'
Enter Your Details – Etax helps you find deductions
Live Chat for Support
Sign Your Etax Return
---
Here's what happens at Etax, after you're done:
An accountant checks your tax return and looks for extra deductions to boost your tax refund
A Second Accountant Reviews Your Tax Return for accuracy and ATO Compliance
They complete your tax return and lodge it with the ATO
Etax Rated Number One by Australians
Etax won the Canstar Blue "Most Satisfied Customers Award – tax agents, 2018″.
Consumer reviews about Etax often mention friendly service, excellent value, the amazing online tax return, better tax refunds, or simply the comfort of knowing your tax return was done right.
The ratings speak for themselves! In addition to the Canstar #1 rating, Etax is Australia's best-reviewed tax agent on ProductReview, Facebook, Google and TrustPilot.
Really simple, easy to use and affordable. All your documents and tax return history in one place. Etax pre-populate your return based on prior years & PAYG forms. Been using them for 5 years. Highly Recommend."
—KrissyJ, Sydney, from Product Review, April 2018
Why do your tax return at Etax.com.au?
Deduction tips help boost your ATO tax refund
Etax Prefill can do half of your tax return for you!
See What You Claimed Last Year:
Saves you time and helps you remember important deductions
Friendly support from a qualified accountant on live chat or phone
No Appointments, no travel to a tax agent's office, low fees, and  you still get expert checking and advice — access your account 24/7 from wherever you are
Less reading, more simple help
Checked twice by Etax Accountants for accuracy and extra deductions (Better support and service than many tax agent offices)
Etax is on your side
You don't have to go it alone with the ATO
Most people finish their tax return in minutes!
---
What's the best way to do my tax return?
Etax constantly surveys users. We ask for your feedback, ratings and suggestions.
Why? Well, we really want to be the best at what we do. So, our team of tax accountants and software experts work all year round, trying to make the tax return easier, and to improve Etax service and support.
That all happens based on the kind, thoughtful, valuable feedback we receive from Etax users.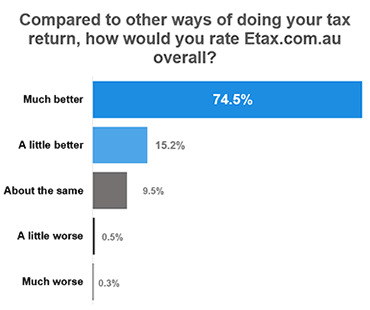 ---
Here's what people say about Etax
In our July survey, 98 per cent of people said they're so happy with Etax, they will recommend it to friends and family when they do their tax return.
But that doesn't mean our job is done. Our team  honestly works non-stop trying to make it all work better for everyone. We don't want to leave anyone behind, because everyone deserves a fair tax refund and good tax agent service for a fair price.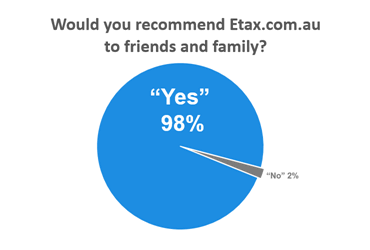 ---
How do most Australians do their tax return?
The ATO confirms that most taxpayers prefer to use a tax agent like Etax.com.au to lodge their tax return. 74 per cent of lodgements are completed with the help of a tax agent.
This has been almost unchanged for years, in spite of ATO marketing and media that tell us we should do it ourselves with ATO myTax. Why doesn't everyone go it alone with myTax? Because we are all free to get tax help from someone who's on our side.
Australia's Inspector-General of Taxation told a parliamentary committee, "There is something to be said about having somebody independent looking at your (tax) affairs and helping you with that."
"People want assurance that they have paid the right amount of tax—not too much or too little."
The Inspector General also said, "…frankly, I think every citizen is entitled to independent advice. They should not be getting all their advice from the tax office."
You can get the confidence of tax agent support and checking, with online convenience, at Etax – the leading online tax experts in Australia. Plus, the low "once-per-year" fee is also tax deductible!
A Tax Return For Every Australian
Everyone who earned money in the past year needs to do a 2019 tax return. From students to retirees, graduates to CEOs, "just starting" all the way to landlords and investors, Etax is here to serve almost every Australian. Etax makes tax returns easy.
All types of Individual Tax Returns
Personal Tax Return
Rental Properties
Family Tax Benefits
Fringe Benefits Tax
Capital Gains Tax
Home Business Tax Return
Sole Trader Tax Return
Sharing Economy
Trusts
Prior Years' Tax Return
ATO Non-Lodgement Advice
Amended Tax Returns
Late tax returns from 2001 to 2018
Etax = Tax Help
for All Occupations
Salespeople
Tradespeople
Sole Traders
Teachers
Retail Clerks
Nurses
Police
Managers
Bookkeepers
Software Developers
Cleaners
Builders
Health Professionals
Defence Forces Tax Return