New to Etax
Fast & easy online tax return for 2023
Can't find your PAYG or Income Statement? No problem – Etax can find it for you!
Live help from qualified Etax Accountants, online & phone
Expert tax agent checking helps prevent ATO problems and helps boost your tax refund
Direct electronic ATO lodgement
Confidence of lodging your return via a registered tax agent
Maximise your tax refund
Existing Clients
Finish your tax return
Snap & save receipts for your deductions
Check your Etax messages
Check the progress of your tax refund
Update your details
Do any year's tax return 2010–2023
Forgot your password? Click here for login help.
You can finish your tax return now, in minutes!
How to do your tax return: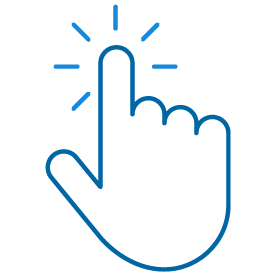 Click "Get Started Now"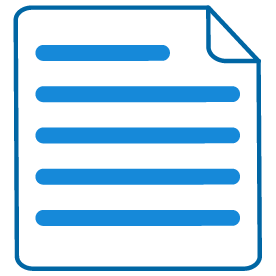 Enter your details – Etax helps find your deductions
Live chat for support
Sign your return online, then Etax gets down to work
---
Here's what happens at Etax after you're done:
Etax checks your tax return and looks for extra deductions to boost your tax refund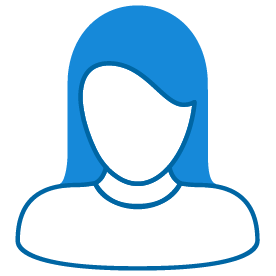 An Etax Accountant re-checks your return for accuracy and ATO compliance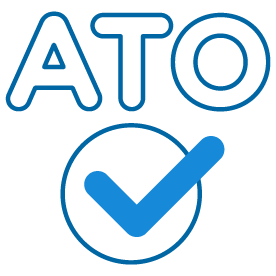 Your tax return is lodged with the ATO, and your tax refund is on the way
Etax Rated Number One by Australians
Etax won the Product Review award for the last four years (2023, 2022, 2021, 2020…) Etax has also won the Canstar Blue "Most Satisfied Customers Award" for tax agents, multiple times.

Customer reviews about Etax mention friendly service, excellent value, the amazing online tax return, better tax refunds, and the comfort of knowing your tax return was done right.

The ratings speak for themselves! Etax is Australia's best-rated tax agent on Product Review, Facebook, Google and TrustPilot.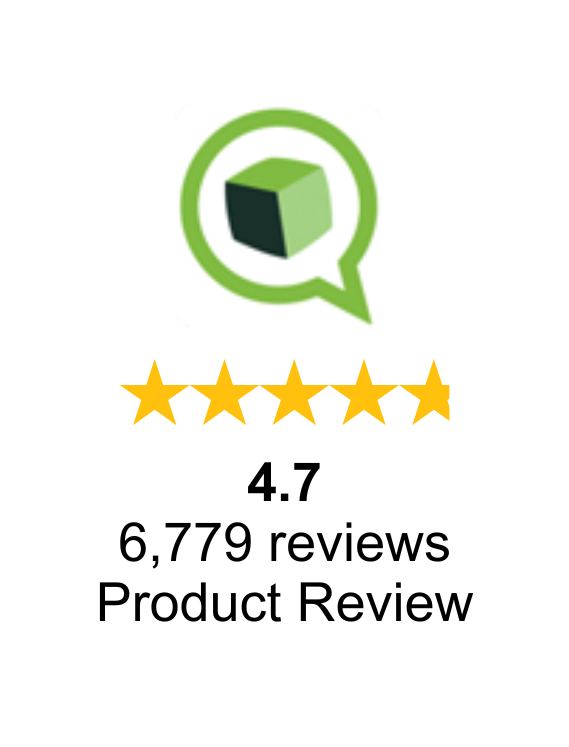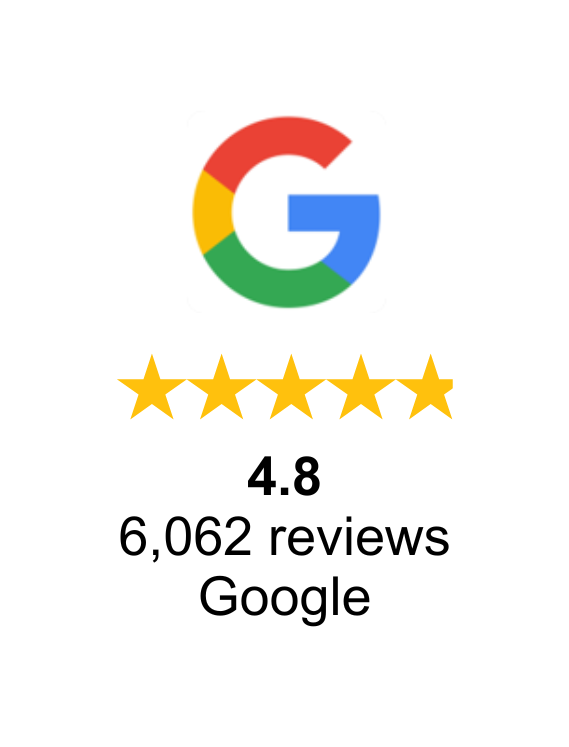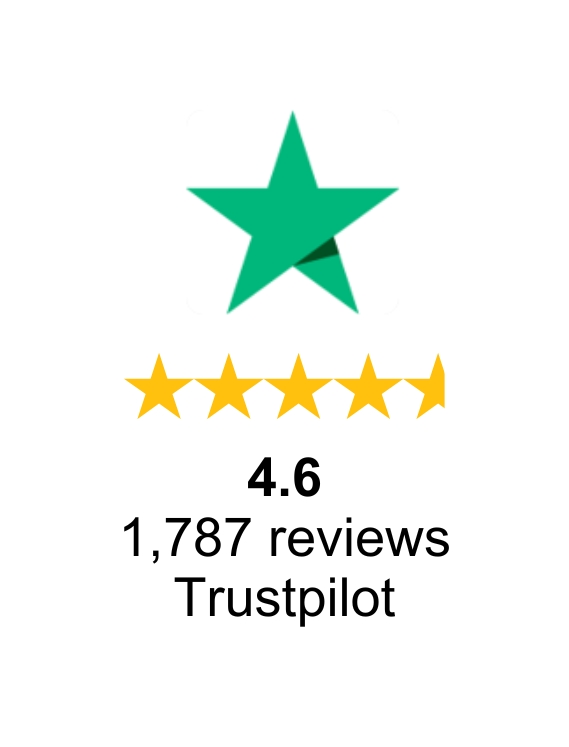 ---
Easiest Tax Return Ever!
"Easiest tax return I've ever done. Incredibly simple, step by step process that helps you get the maximum return you are fairly entitled to. I'll be using this system every year from now on!" —posted by 'Griffinlay99' at Product Review
Why do your tax return at Etax?
Etax Prefill can do half of your tax return for you!
Deduction tips help boost your ATO tax refund
Refund calculator shows your refund as you go
See what you claimed last year: Saves you time and helps you remember important deductions
Friendly support from a qualified accountant on live chat or phone
No appointments, no travel to a tax agent's office, low fees and you still get expert checking and advice
Less reading, more help
Checked twice for accuracy and extra deductions (better support and service than many tax agent offices)
Etax is on your side You don't have to go it alone with the ATO
Most people finish their 2023 tax return in minutes, at Etax!
---
What's the best way to do my taxes?
The Etax teams of tax accountants and software experts work all year round, trying to make your tax return easier and to improve Etax service and support.
Annual upgrades and improvements at Etax are based on the kind, thoughtful feedback we receive from Etax users. Thousands of people answer Etax surveys each year and your smart suggestions have helped to make Etax amazing.
Those surveys also show that Etax clients are pretty happy…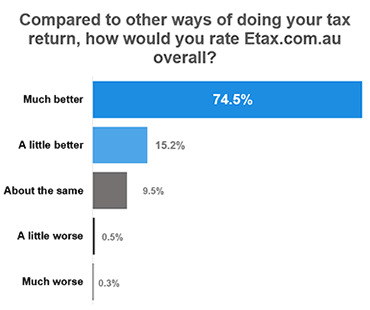 ---
Here's what people say about Etax
In our July survey, 98 per cent of people said they're so happy, they will recommend Etax to friends and family.
But that doesn't mean our job is done. Our team works year-round to make the tax return, and our support and service, work better for everyone. We don't want to leave anyone behind, because everyone deserves a fair tax refund and good tax agent service for a fair price.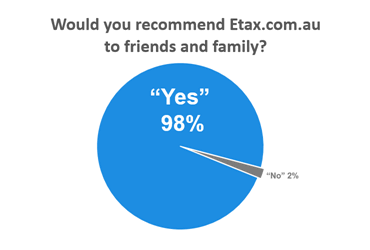 ---
How do most Australians do their tax return?
The ATO confirms that most taxpayers prefer to use a tax agent like Etax to lodge their tax return. The majority of tax returns are done this way.
This is in spite of ATO marketing and media suggesting we should do it ourselves with ATO MyGov and myTax.
Why doesn't everyone go it alone with myTax? Because most people choose to get tax help from someone who's on their side.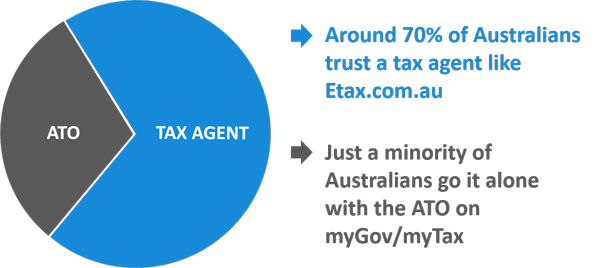 You can get the confidence of tax agent support and checking, with online convenience, at Etax – the leading online tax experts in Australia. Plus, the low "once-per-year" fee is also tax deductible!
Tax Returns for Every Australian
Everyone who earned money in the past year needs to do a 2023 tax return.
From students to retirees, graduates to CEOs, "just starting" all the way to landlords and investors, Etax is here to serve almost every Australian. Etax makes tax returns easy.
All Types of Individual Tax Returns
Individual Tax Return (for a normal employee or self-employed person

Rental Properties

Family Tax Benefits

Fringe Benefits Tax

Capital Gains Tax

Home Business Tax Return

Sole Trader Tax Return

Sharing Economy

Trusts

ATO Non-Lodgement Advice

Amended Tax Returns

Late tax returns done in minutes
Etax = Tax Help for All Occupations
Salespeople

Tradespeople

Professionals

Sole Traders

Teachers

Retail Clerks

Nurses

Police

Managers

Bookkeepers

Software Developers

Cleaners

Builders

Health Professionals

Defence Forces