How to Choose a Tax Agent
(And Get Your Taxes Done Right)
Here's everything you need to know about choosing and using a Tax Agent in Australia.
Should I use a tax agent?
Do want to do your taxes quick & easy, get a good refund, and no stress?
If you're like most Australians, you'll get all that from a tax agent.
People use a tax agent for convenience, better tax refunds and friendly support. Above all, people want to know it's done right and avoid ATO trouble.
Another factor is, "Can I get my taxes done online or on mobile, and still get help from a tax agent?" (Yes, at Etax.)
Let's cover some important consumer information about tax agents, the ATO and your tax return.
ATO audits: The ATO is checking up on you right now, and a tax agent can help
ATO computers now track every Australian's employment and financial details – all year round.
The ATO's systems check your salary, allowances and expenses. They know what you do, where you live and how old you are. They look at your family, superannuation, Centrelink, Childcare and more.
In addition, the ATO can check your bank accounts, credit cards, spending and investments – including overseas.
After that, the ATO creates a sort of 'profile', predicting what's on your next tax return. However, no, you can't ask for a copy of your profile from the ATO.
If you put something on your tax return that's different to the ATO computer prediction for you, that's when the ATO starts looking at you much, much closer.
As a result, a huge number of Australians receive very unhappy ATO letters and lose part, or all, of their tax refunds.
People who "self-prepare" their taxes on MyGov seem likely to be at higher risk of ATO audits, and also of claiming fewer deductions. Therefore, they may get smaller tax refunds.
Here's where a tax agent like Etax comes in
They are on YOUR side.
Agents at Etax can peer inside the ATO's 'brain', because, they look directly at ATO records.
Then, they try to find ways to boost your refund. Etax helps you find tax deductions that you might never have thought about.
In addition, Etax checks for problems that could set the ATO off on you.
So, when you choose Etax you know that you're getting the best refund possible along with the peace of mind you'd expect from Australia's top-rated tax agent.
Ready to lodge your tax return and get that refund?
It takes just a few minutes online, with live online support to help boost your refund.

What Is A Registered Tax Agent?
Tax agents are accountants who are specially trained in how to prepare and lodge Income Tax Returns, and they study tax constantly – so you don't have to.
A tax agent is more trained and higher-qualified than a normal accountant.
As a result, agents are allowed by the ATO to help taxpayers and lodge tax returns, and also to access special ATO systems.
Every registered tax agent should display a TPB logo like the one shown here, including an official registration number.
Tax Agents Are Not All The Same
At the best tax agents you get help from degree-qualified, tax-trained accountants and tax agents. In other words, your taxes get done by someone whose career is all about tax.
At poorer agent offices, you get served by a person who's not a tax agent; sometimes not even a trained accountant. Better to avoid that.
All Etax, you get help from people with at least an accounting degree, in addition to specialised tax training.
CA- and CPA-certified accountants lead the team at Etax, including some of the most experienced tax agents in Australia.
Etax has other benefits not offered by most agents including, year-round support, saving receipts from mobile direct to your return.
Tax agents figure out how to get the tax refund you deserve, without setting off the ATO.
Tax agents are human number-crunching machines. It's what they like to do. They are good at finding mistakes or numbers that are out of place, then fixing it up. Also, tax agents read ATO publications and tax law training materials year-round to keep on top of tax.
Tax agents do all this in order to make tax easy for you. They get your taxes done right, without a lot of fuss.

The Advantages of Using a Tax Agent
Australians choose an agent for a few main reasons.
confidence your taxes get done right
help to boost your tax refund
spend less time each year worrying about taxes
expert help when the ATO sends a letter or comes knocking
On top of all that, most agents charge a low fee AND it is tax-deductible.
At Etax you can get all that, plus some great technology that actually makes your tax return a bit more fun. And it takes just minutes of your time.
How to choose a tax agent
First, do you want to do it online? That's Etax.
A good way to start selecting an agent is to look at reviews for tax agents on Google or Product Review. An agent with a lot of bad reviews means, steer clear. An agent with NO bad reviews means you should wonder, are these reviews real?
Etax Customer Ratings
---
Thank you to a great team of people who deliver the best service.
I have been doing my tax return with Etax Accountants since 2010, the process is simple and the guidelines easy to follow. Communication is efficient and prompt, very helpful and the service is amazing.
-Pamela, Google Reviews, July 2019
---
Easy to complete with excellent support
I have used Etax on a number of occasions over the years, Simple, Easy. I will never use another agent again. Very happy with the support and accountants are very helpful and thorough.
-L.Bonaddio in NT, ProductReview, July 2019
---
I've been using Etax for my last 6 returns!
The website is easy to use and they have a fantastic team to help and support you if required. There is a fantastic refund estimate tool that updates in real time which I love. They are quick, easy and hassle free. Highly recommended
-Ness76Adam, Google Reviews, July 2018
---
Too easy!
Easy to use, easy to follow, excellent service! Have used this service a number of times and it's great. I don't need to look anything up it's all there for me.
-Jules in Tasmania, ProductReview, July 2019
---
Easy, fast, efficient
Easy to understand, fast and efficient, second year using etax and will continue to use in the future would recommend etax to anyone wanting a painless easy to use experience.
-Todd in Queensland, Product Review, July 2019
---
I've been using Etax for nearly ten years…
and doing tax returns has never been so easy. Literally just a few minutes of your time and you're done. Previous form data is saved allowing you to automatically have previous details entered if you're short on time. I highly recommend this company, you won't be disappointed.
-Calder P, Google Reviews, July 2019

Is your tax agent qualified?
The best agents show you their qualifications and experience. If you don't see these important business details on a website or shopfront, you should ask.
Have they been around for a while, or did they just appear? (Remember, you need to trust your tax agent to handle money and deal with the ATO for you.)
Do they have a proper TPB logo and TPB registration number on their website?
Even more, do they have high ratings with lots of reviews on Google and ProductReview?
Do they have other qualifications like being a CPA Accounting Practice?
Are they certified with any quality standard like ISO 9001, or IT security certification like ISO 27001?
Does their contact page include a REAL business address (not a residential address) and a business phone and email?
Etax is a "yes" to everything above.
In fact, Etax is Australia's most popular tax agent, all online.
Etax won Australia's Canstar Blue Most Satisfied Customers Award for Tax Agents in 2018 and 2020 and the ProductReview award for 2020 and 2021!
Instant tax refunds
Some tax agents offer "same day" or "instant" tax refunds. Should you go for it?
Probably not!
An "instant tax refund" ALWAYS means higher fees. And for what? You tax refund will take, on average, about 7-12 days. Would you pay an extra fifty, hundred or even more just to get your refund a few days quicker?
An "instant" tax refund is actually a high-cost, short-term loan – a wolf in sheep's clothing. Therefore, it's best to avoid that.
Do most people use a tax agent?
Yes – most Australians use a tax agent.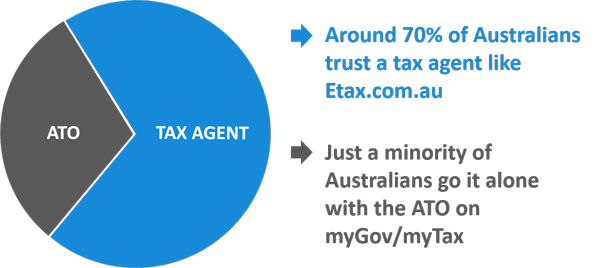 Tax agents lodge over 70 per cent of Australians' tax returns.