"What's the best way to do my tax return?"
Let's compare myGov, Etax and other tax return options: What's the best one for you?

The ATO advertises a tax "product" called myTax, which is inside the myGov website – and it's a way to self-prepare your tax return.
As a taxpayer it is hard to know what to do. What is the best tax return and what are the alternatives?
Let's compare the most popular tax return options including the ATO's myTax…
Etax
Do your tax return online in minutes
See your deductions from last year, so you won't forget
Stuck? No problem – we're always ready to help on live chat and phone (with a real accountant who's on your side)
Deduction tips (based on your job) help to boost your refund
Tax returns for all taxpayers, from students, to your 1st job, to high income executives
Less reading: Choose the bits you need and hide the bits you don't need
Your tax return is checked by accountants before lodgement
Get friendly help with ATO audits, ATO letters or amended returns
You can feel confident that your taxes were checked and done right
The low fees are tax deductible
ATO myTax
You have to register all your personal details on the Government's myGov website before you start myTax
Hard to be confident you've done it right, difficult to know if you're missing out on tax deductions
Limited support, no help from people who are on your side
Saving on tax agent fees by using 'free' ATO tools like myTax could mean you get a smaller tax refund. (And tax agent fees are tax deductible anyway.)
No checking by an accountant – make a mistake and you're on your own with ATO auditors
If you have to lodge an amendment to fix a mistake, you will need a tax agent
ATO audit or troubles? If you used myTax, you are on your own
The ATO's real job is to collect more tax (more about that down below)
Old-Fashioned Tax Agent's Office
An office appointment and travel could take 1 hour or more
Must take all of your tax info and papers with you… let's hope you don't leave something at home
You get advice when you're there, but typically little or no support after you leave
You might not get advice directly from a qualified accountant
Cost of visiting a Tax Agent office can be expensive; advertised prices are low, yet the average amount you pay may be much higher
Who uses a tax agent service?


Most Australians do!
In fact, the majority of Australian tax returns are lodged with a tax agent.
It seems pretty clear that the ATO hopes more people will use myTax. How does the ATO promote that message?
Over the years, the ATO spends taxpayer dollars, on "market research" plus advertising and PR agencies. They pay money to get articles into your favourite newspaper, created by media agencies paid for by you. They also pay hundreds of thousands of dollars for social media experts and studies on how to influence people's behaviour. All of this is detailed in the ATO's annual report. They even put curriculum into schools where kids do assignments about myGov.
The ATO keeps repeating the message, that people should all use myGov.
That's funny, because the fact is, most Australians prefer to use a tax agent like Etax.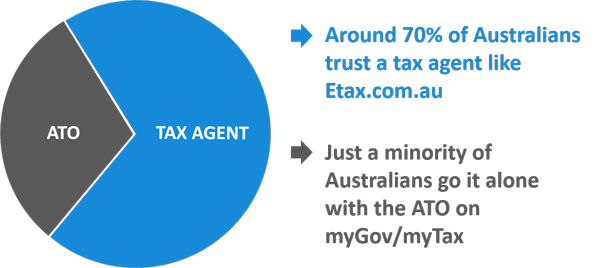 People use a tax agent service because…
Confidence your return is done right
A tax agent is looking out for your interests, helping you avoid ATO trouble and trying to improve your tax refund
The ATO's rules are so complex that only an expert has time to take it all in
Using an agent is easier and faster than worrying about it yourself
It is affordable, just one mistake avoided can pay for itself, and the fees are tax-deductible
NEW: You can use a mobile app to save receipts and documents to your Etax account, so you will remember to claim at tax time
The ATO's main job is to collect tax money – not to give it back
If you paid for work-related expenses that could get you a better refund, with the ATO you're on your own. The ATO's job is not to help you to boost your tax refund or help you with tax advice before you lodge your return.
Across Australia, more than 20,000 ATO employees work every day to enforce 5,743 pages of tax rules. Their job is to collect more tax revenue and to enforce tax laws. The ATO releases new warnings almost every month, about new "compliance priorities" and new triggers that can cause an audit on your taxes.
How are normal Australians supposed to handle that?
Helping you get a fair go is a tax agent's job. That's why most Australians use a tax agent – and it's why most of us ignore ATO ads telling us to self-prepare our taxes on myGov.
Who do you trust with your taxes?
Using a tax agent like Etax means you get all the online convenience, plus you'll have the confidence in knowing your return was done right and that you've got the best possible refund.
Wouldn't you rather think about how to spend your refund, and leave the tax homework to an expert?
At Etax, we think we've got a pretty good service, but don't just take it from us! Here are some results of our client survey:
---
Australia's CANSTAR Blue awarded Etax the "Most Satisfied Customers" Award in 2018 and 2020
---
Reviews of Etax
Thousands of Etax clients post their ratings and reviews and it is truly rewarding for all of our people at Etax. We collect feedback and ideas from users, then get to work on improving every year. Thanks everyone for your feedback, ideas and support.
---
Too easy!
Easy to use, easy to follow, excellent service! Have used this service a number of times and it's great. I don't need to look anything up it's all there for me.
-Jules in Tasmania, from ProductReview
---
Thank you to a great team of people who deliver the best service.
I have been doing my tax return with Etax Accountants since 2010, the process is simple and the guidelines easy to follow. Communication is efficient and prompt, very helpful and the service is amazing.
-Pamela, from Google Reviews
---
Easiest Tax Return Ever!
Easiest tax return I've ever done. Incredibly simple, step by step process that helps you get the maximum return you are fairly entitled to. I'll be using this system every year from now on!
-Griffinlay99, from ProductReview
---
Easy to complete with excellent support
I have used Etax on a number of occasions over the years, Simple, Easy. I will never use another agent again. Very happy with the support and accountants are very helpful and thorough.
-L.Bonaddio in NT, from ProductReview
---
I've been using Etax for my last 6 returns!
The website is easy to use and they have a fantastic team to help and support you if required. There is a fantastic refund estimate tool that updates in real time which I love. They are quick, easy and hassle free. Highly recommended
-Ness76Adam P., from Google Reviews
---
Perfect
Etax made my tax return very easy and I would be very happy to recommend them to anyone who is looking for an affordable and easy way to do their return I certainly will keep on using them as long as I need to.
-Joseph C. in Victoria, from Product Review
---
Easy, fast, efficient
Easy to understand, fast and efficient, second year using etax and will continue to use in the future would recommend etax to anyone wanting a painless easy to use experience.
-Todd in Queensland, from Product Review
---

Tax Return
I've done my tax refund in literally seconds, amazed. The actual process step by step is very easy to use nothing complicated. Thank you very much for your service. I will definitely use it next year.
-Lorenzo in NSW, from Product Review
---
Such an easy service
…and very happy with my returns for the past few years! Be hard to go elsewhere now!
-Malcolm S., from Facebook
---
I've been using Etax for nearly ten years…
and doing tax returns has never been so easy. Literally just a few minutes of your time and you're done. Previous form data is saved allowing you to automatically have previous details entered if you're short on time. I highly recommend this company, you won't be disappointed.
-Calder P., from Google Reviews