Archived Content: The information in this post is no longer current.
Treasurer Scott Morrison announced the 2017 federal budget on Tuesday night, which included the government's plans to save $2.8 billion over the next five years by reforming the Higher Education system. Read on for an overview of the changes announced in the 2017 budget for students.
How does the 2017 Budget affect students?
Higher Education students might be hit the hardest by the 2017 Budget, with cuts to university funding leading toward increased student fees and tougher HELP repayments.
Here's our wrap-up on winners and losers in the 2017 budget for students.
2017 Budget wins and losses for Higher Education Students
2017 Budget for Students: Wins
Commonwealth Supported Places for sub-bachelor programs (diploma, advanced diploma and associate degree courses)
The Government currently decides how many students can receive a subsidy to study sub-bachelor courses at each university. In 2016, this meant a total of 2,749 sub-bachelor places required by universities were not funded by the Government.
The demand driven funding system will be expand in January 2018 to include Commonwealth Supported Places (CSPs) at public universities to students in approved sub-bachelor courses (diploma, advanced diploma and associate degree courses). This should mean that rather than the Government deciding how many students can receive the subsidy, it will instead be determined by the "demand" or number of students planning to study a sub-bachelor course at university in a Commonwealth Supported Place.
2017 Budget for Students: Losses
University funding cuts
Universities suffer a direct cut of $384.2 million over two years meaning students will pay more. The Government will save $2.8 billion. These changes replace original Government plans to cut university funding by 20% and instead take the form of a 2.5% efficiency dividend on commonwealth grant scheme payments in both 2018 and 2019.
University fee increases
From January 2018, students will face increased university fees. Starting at 1.8% in 2018 and rising to total 7.5% increase by 2021. Depending on the specific course, university students will have to pay an extra $1,000 to $3,600 for a four-year course.
For example, a nursing student who commences a four-year course in 2018:
Fees will increase by $1250, from $26,550 to $27,800.
The Government will provide $55,700 in subsidies through the Commonwealth Grants Scheme.
HELP repayment threshold changes
The HELP debt minimum income level will drop from $55,000 to $42,000. Currently you only need to start repaying your debt when you earn over $55,000. But from July 2018, university graduates will have to repaying their HELP debt once they earn$42,000.
HELP repayment threshold
The government currently carries $52 billion in student loan debt. They expect a quarter of the debt is unlikely to ever be paid back.
To retain the sustainability of the Higher Education Loan Program (HELP) it needs says it needs to re-dress the balance.
Under the reforms in the 2017 Budget, graduates will start paying back their HELP debts sooner.
Effectively, this will bring an estimated 183,000 extra taxpayers into the repayment scheme in 2018-19.
Repayment thresholds for HELP are as follows: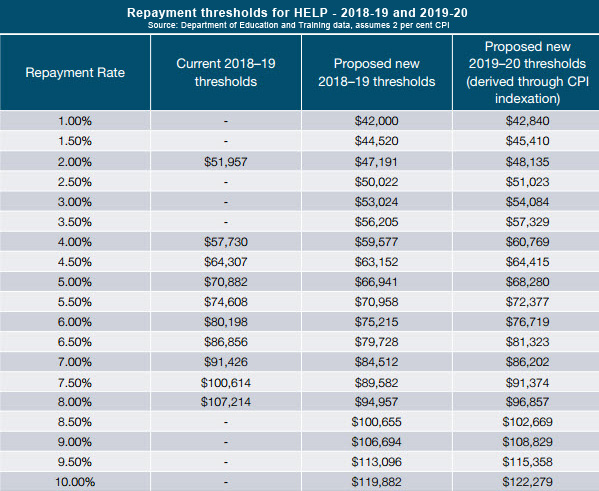 Source: Australian Government Higher Education Reform Package – May 2017
Relevant links: