Online Tax Return: Do Your Taxes Online
The step-by-step Etax online tax return lets you choose the sections you need, saving you time and trouble.
Fast & easy – fully online
No appointment needed – connect with an accountant anytime
Safe and secure
Etax prefill and smart tips can complete most of the tax return for you. (No income statement needed!)
Live chat and phone support with qualified Etax Accountants
Automatic tax deduction tips, based on your occupation
Expert advice helps to increase your tax refund and prevent ATO problems
Feel confident lodging your tax return online with a registered tax agent (and with accountants who are on your side)
Our goal is to maximise your tax refund
User feedback shows the Etax online tax return is the fastest, easiest way to lodge an Australian tax return.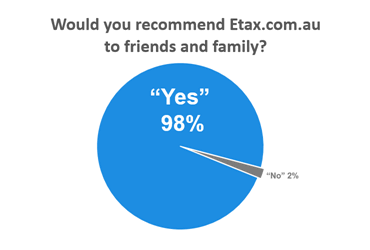 In our survey, 98% of users said they'll recommend Etax.com.au to friends and family.
A quick tour of the Etax online tax return
Here's a screenshot of the tax return. We've highlighted some special features that make your taxes easier…
1. Refund estimate: Real time refund estimate updates as you go.
2. Help videos and content: Need help? Quick how-to videos guide you.
3. Easy selectors: Select the items you need, then fill the sections in below
4. Live chat: Want to talk to a real accountant? Do that too with Live Chat.
Attach receipts and documents in a few seconds
Tax refund calculator updates when you add deductions
Saves details automatically as you go
Etax works great on any device
Doing your tax return online is quickly becoming the most popular option for taxpayers in Australia. There's no need for appointments at an accountant's office when you can get the same service right here, online.
And, there's no need to go it alone with the ATO when you can combine online convenience plus professional support and advice. Remember, it's the ATO's job to collect revenue, not help you get a bigger refund. At Etax, we're on your side and make sure you get the best possible tax refund.
The step-by-step online return at Etax lets you choose the sections you need, saving you time and trouble.
New Auto Prefill: Enters up to 70% of the return for you
Confidence: Your Etax online return is checked twice by qualified accountants for accuracy and extra deductions prior to lodgement. (Better support and expertise than at most tax agent offices)
No appointments, no offices, low fees, expert checking and advice
New Online Help & Info Helps you see "what goes where"
Smart Deduction Tips helps you remember all the bits you should claim
Save receipts and documents right onto your return
Mobile friendly: Do your tax return and exchange online messages with your Etax accountant, all from your mobile!
Section Selector: Only shows what you need. Less reading!
Do it, then forget it. Finish your online tax return in minutes—the Etax team handles the rest for you.
Ready to do your tax return online?
The redesigned online tax return and new "smart" features make your taxes easier than ever.
Not sure about something?
No problem. When you get started look down at the bottom of your return: There's a final section called "Other items and attachments".
You can just enter your question or any remaining bits of info, or attach a file or photo. Next an accountant will get back to you or add the information into the right place for you. Easy.
---
SEO – What's New at Etax in 2021?
A Simple Guide To Tax Deductions in Australia
Etax Reviews