What is MyGov?
To do your tax return at myGov, you need to set up a myGov account and enter all your personal details on the Government online system.
Then you connect that account with "ATO online" and enter more details there.
Finally, you can start a tax return and enter your financial details, including income and deductions plus answer a lot of other questions.
Bottom line: It's the ATO's job to collect revenue. They will not help you get a better tax refund.
What is Etax?
Etax is Australia's most popular online tax agent service. Just like visiting an accountant in person, but better. You get full accountant support with your taxes, all done online, all done in minutes.
Using the latest technology, Etax just keeps getting better, year after year.
It's a low-cost service that includes friendly support from qualified accountants who are on your side, helping to make tax easy.
Etax is all about better refunds and less trouble. Etax makes tax easy.
---
The benefits of myGov
ATO prefill can save time
No appointments
Online system
No fees (but it may cost you later)
The Bad
You are on your own, dealing with the ATO
No help claiming deductions
No help getting the refund you deserve
If the ATO rejects or changes your return, nobody will help you
You have to use the government's myGov tax portal and enter all your details there
The ATO's job is to collect taxes, not boost your refund
ATO audit? You're on your own
---
The benefits of Etax (Here's where Etax really stands out!)
Prefill saves time, same as ATO
No appointments
Online system
Friendly live support from trained accountants who are on your side
Deduction finder automatically helps boost your refund
See your deductions from last year, so you won't forget
Includes professional help responding to ATO issues
Accountants check the return for errors and extra deductions to boost your refund further, if possible
Lower fees than most agents, plus it's tax-deductible
Can usually arrange late lodgement or payment plans if needed
The Bad
None. Etax is convenient, easy, cheap and includes help from accountants who are on your side.
Ready to lodge your tax return and get that refund?
It takes just a few minutes online, with live online support to help boost your refund.
Have you ever thought, why use a tax agent if MyGov is free?
More than 70% of taxpayers use a tax agent like Etax to help lodge their tax return. Why is that?
They like the peace of mind. An expert who's on their side is checking their return. They want the best possible refund and be sure there are no errors that could lead to ATO troubles. They want friendly help online, from somebody who does tax for a living.
Plus, the Etax fee is tax deductible!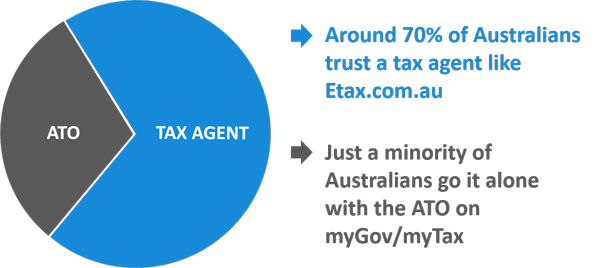 Why doesn't everyone go it alone with myTax and myGov?
Because we're all free to get tax help from someone who's on our side.
Australia's Inspector-General of Taxation told an Australian parliamentary committee,
"There is something to be said about having somebody independent looking at your (tax) affairs and helping you with that."
"People want assurance that they have paid the right amount of tax—not too much or too little."
The Inspector General also said, "…frankly, I think every citizen is entitled to independent advice. They should not be getting all their advice from the tax office."

Etax is the top-rated tax agent, with thousands of consumer reviews, plus special awards from Australia's Canstar and Product Review